Molesworth & Spooners Tunnel Cycle Tour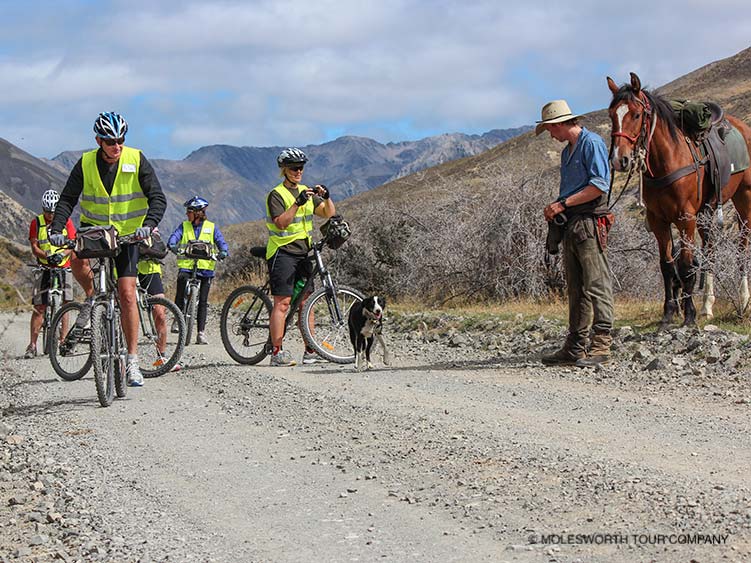 Duration: 4 Days (approx.)
Location: Amberley, North Canterbury
Product code: PMP8DK
The Four Day Cycle Tour will let you enjoy biking the best parts of
the Awatere Valley and Molesworth Station in the beautiful Marlborough high
country. Bike through the Maruia Trail native bush and off-road cycling to stay
at Nelson Lakes and experience cycling through the Spooners Tunnel. Enjoy
meeting local farmers, good food and comfortable accommodation.
Tour Itinerary
Day 1 (approx. 25km cycle ride) Awatere Valley

8.00 and 8.30 am pickups from your
accommodation in Blenheim to drive to the start of your ride, 20 kms south of
Blenheim in the Awatere Valley. Bike in sections with breaks during the morning,
stopping to enjoy a homestead farm visit for lunch on a generational farm.
Enjoy a ride further up the valley to overnight at one of NZ's most remote
stations, in the upper reaches of the Awatere Valley arriving about 5.00 pm. Relax
in quality accommodation with excellent cuisine.
Inclusions: Morning tea, lunch and dinner, accommodation in newly built farm accommodation.

Day 2 (approx. 50km cycle ride) Awatere Valley Farm to Hanmer Springs
After a farm style breakfast we will drive you up to
the top of Upcot Saddle so you can enjoy a mainly downhill ride of 10kms to
Castle Creek with a break here, then enjoy the picturesque cycle ride to the
start of Molesworth Station for lunch. You
will be able to ride all the best downhill sections, a 10km afternoon ride
along the Acheron River followed by a ride into Hanmer Springs for a hot pool
soak. Hanmer Springs approximately 5.30pm.
Time to relax in the thermal pools before dinner.

Inclusions: Breakfast, morning tea, lunch and dinner, accommodation in motels.
Day 3 (approx. 40km cycle ride) Maruia to Murchison
Departing Hanmer Springs in your support vehicle we
drive westward to the Lewis Pass saddle to start your ride on the Maruia trail
an off road forty km ride to Murchison through native bush. A good variety of
safe biking today with overnight accommodation in St Arnaud.

Inclusions: Breakfast, lunch and dinner and alpine lodge accommodation
Day 4 (approx. 40 km ride) Spooners Tunnel to Nelson
Drive from St Arnaud to the Tasman district to the
start of the Spooners Tunnel cycle way. Enjoy a gentle downhill run through the
tunnel (1.4 KM long) riding through the small township of Belgrove, take a
break over a cuppa then bike onto to Waiti. We will have a lunch break at small
township of Brightwater before re-joining the trail to ride to Monaco in outer
Nelson. Enjoy a celebration drink before returning by bus to Blenheim by 5.30 pm.

Inclusions: Breakfast, lunch
Bike hire - Trek mountain bike Includes use of a bike helmet and safety vest, $150

E-Bike hire - $400 for the five days.